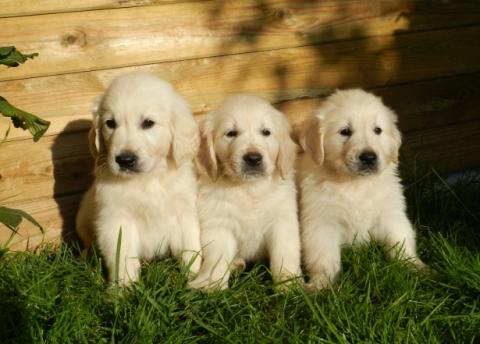 Bringing a new puppy home is an exciting experience. We get the chance to form a bond with our new furry best friend and show them how much we care about them. One of the things that many owners of new puppies are unsure of is how to feed their puppy to give them the best possible start in life.
Little bodies with big needs
One of the most important things to know about feeding puppies is that even though they are small, they have big nutritional needs. Growing dogs are considered to be puppies until one year of age for small/miniature and medium breed dogs and 18 to 24 months of age for large and giant breed dogs.
Keep these key nutritional guidelines in mind when choosing a food for your new family
member:
- Look for a complete and balanced, quality puppy food that is designed specifically to suit the needs of puppies
- Puppies have very small stomachs but need lots of energy for playing and growing they need up to double the energy of adult dogs of the same size
- Puppies should be provided with a high quality, digestible protein to supply them with amino acids (the building blocks of protein) which are needed for growth, strong bodies, healthy skin and coat and well functioning immune systems
- Puppies need plenty of fat to supply energy and provide essential fatty acids such as DHA, necessary for development of the nervous system and brain
- Moving from their mum's milk to solid food is a big step, the foods we provide should be easily digestible and should help puppies to build a strong and healthy digestive system
- Calcium and phosphorus requirements differ between small to medium and large to giant breed puppies, this needs to be carefully considered to avoid developmental skeletal diseases
- The type and amount of food needed by each puppy will depend on their growth stage and expected adult weight

Tailoring the Food for Each Puppy
To allow us to choose the right type and amount of food for our puppy, we first need to determine how big we expect them to grow as an adult dog. Adult dogs that weigh less than 10kg are considered to be small breed dogs, adult dogs weighing between 10 and 25kg are considered to be medium breed dogs, adult dogs that weigh between 25 and 45kg fit into the large breed category and adult dogs weighing 45kg or more are considered to be giant breeds.
Once we have determined the eventual weight of the puppy, we start to think about their rate of growth. This will help us to get the right amount of energy to the puppy to allow for plenty of healthy development without causing them to become overweight. The initial stages of growing requires a lot of energy as growth is very rapid. Growth slows slightly once a dog reaches 50% of its adult weight and therefore their energy requirement per kilogram of bodyweight also reduces. It may be helpful to choose a dog food that includes an age range in the feeding guide to point you in the right direction.

Holistic Select for Your Puppy
Holistic Select provide a range of diets that have been carefully formulated to support the specific needs of puppies of all shapes and sizes, from small and miniature breeds to large and giant breeds and allow you to choose from both grained and grain-free options.

The Holistic Select Puppy Range currently includes:
- Grain-Free Small/Mini Breed Puppy
- Grain-Free Puppy Health
- Grain-Free Salmon & Anchovy Adult/Puppy
- Grain-Free Large & Giant Breed Puppy
- Large & Giant Breed Puppy Health

The Holistic Select packaging provides a clear guide on how much to feed your puppy to keep their rate of growth on track. Easily digestible, quality proteins such as lamb, chicken, anchovy and sardine, supply amino acids for building a strong and healthy body. The Holistic Select range provides the right balance of essential fatty acids, including DHA, to fuel growth and support your puppy's developing nervous system. Each recipe provides the correct balance of calcium and phosphorus for their bones and teeth to ensure they grow and develop correctly. Natural ingredients have been selected specifically to promote the health of the digestive system. The natural fibres, digestive enzymes, prebiotics and probiotics that are included in each recipe, provide comprehensive digestive support. Holistic Select is also
free from fillers, artificial colours and flavours. When you feed Holistic Select, you can be sure that you are feeding a diet that is complete, balanced and carefully crafted with only premium natural ingredients. You can trust that your puppy is receiving the very best nutrition, to help them to become a healthy and happy member of your family for years to come.