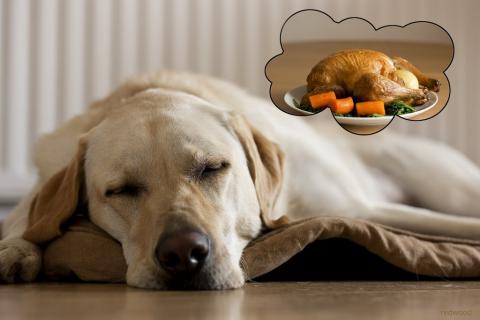 The holiday's just wouldn't be the same without a couple of key ingredients – turkey and cranberry sauce. For some, it's the best part of their meal – so, why should our pets have to miss out on the turkey and cranberry goodness? Well, they don't! Turkey and cranberry can actually have health benefits for your pet if prepared the right way. Let's talk about how your pets can safely enjoy these tasty ingredients and how your pet's health can benefit. You should always consult with your pet's veterinarian before adding any new ingredients to your pet's diet.
The Benefits of Cranberry for Your Pet
Dogs and cats sometimes suffer similar ailments as humans. With that in mind, some of the same remedies that humans use will work for dogs and cats as well. Raw cranberries contain vitamin C, manganese and other essential micronutrients that can help your pet dog or cat. These types of nutrients can help with your pet's vision, immunity, digestion and more.
Cranberry extract can help prevent plaque build-up on your dog or cat's teeth, which can help prevent tooth decay.
The chemicals in cranberries can help to slow down and improve age-related declines in memory, balance and coordination in your pet dog or cat. This can help lengthen your pet's quality of life and keep their brain activity healthy.
The antioxidants in cranberries can help your dog or cat's eyes and prevent eye diseases, such as macular degeneration, which can eventually lead to vision loss or blindness.
Cranberries can also be beneficial to your pet's cardiovascular system – helping blood vessels to relax, dilate and lower blood pressure.
Dogs and cats can be prone to infections in their kidneys, bladder and urinary tract. Cranberries can be helpful in maintaining a healthy urinary tract, which is beneficial to their kidneys and bladder. Incorporating cranberries into your pet's diet on a regular basis can prevent the bacteria that causes infections in these areas.
Always consult with your pet's veterinarian before adding cranberry to their diet. Holistic Select offers a variety of recipes, as well as snacks and treats that include a healthy amount of cranberry.
The Benefits of Turkey for Your Pet
Turkey is another ingredient that, when safely incorporated into your pet's diet, can be beneficial to their health. Turkey can provide health benefits that some other meats cannot and it's a good option to add variety to your pet's diet.
Turkey contains a higher amount of selenium, which is a mineral that can be somewhat difficult for dogs or cats to obtain otherwise.
Selenium can reduce the chances of certain forms of cancer, improve overall long term joint health, keep skin and coat healthy and boost the immune system.
Turkey contains a higher amount of zinc than other meats, and is a mineral that has a large impact on your pet's skin. Zinc can improve the quality of your pet's skin and coat.
Turkey contains a higher amount of iron than other white meats. Iron helps with the transport of oxygen through the blood and is essential to your pet's health – especially high energy dogs.
Turkey tends to be a slightly leaner meat overall when compared to chicken.
When feeding turkey meat to your pet, it is important that the meat be completely cooked and never raw. Also, you should never give your pet a cooked turkey bone for chewing – once they are cooked the bone becomes very brittle and can be harmful to ingest. Once again, Holistic Select offers many different turkey based recipes for your pet and it's always a good idea to consult with your pet's veterinarian before making significant changes to their diet.
Discover the benefits of incorporating turkey and cranberry into your pet's diet and let them enjoy the holiday's most popular and tasty ingredients! Has your pet already discovered the tasty benefits? We want to hear about it!